Happy 3rd Birthday, ENS! 🎈🎂🎁 Have you renewed your .ETH names yet?
May the 4th be with you.
Today marks the 3rd birthday of the Ethereum Name Service, one of the longest running and most used set of smart-contracts on Ethereum.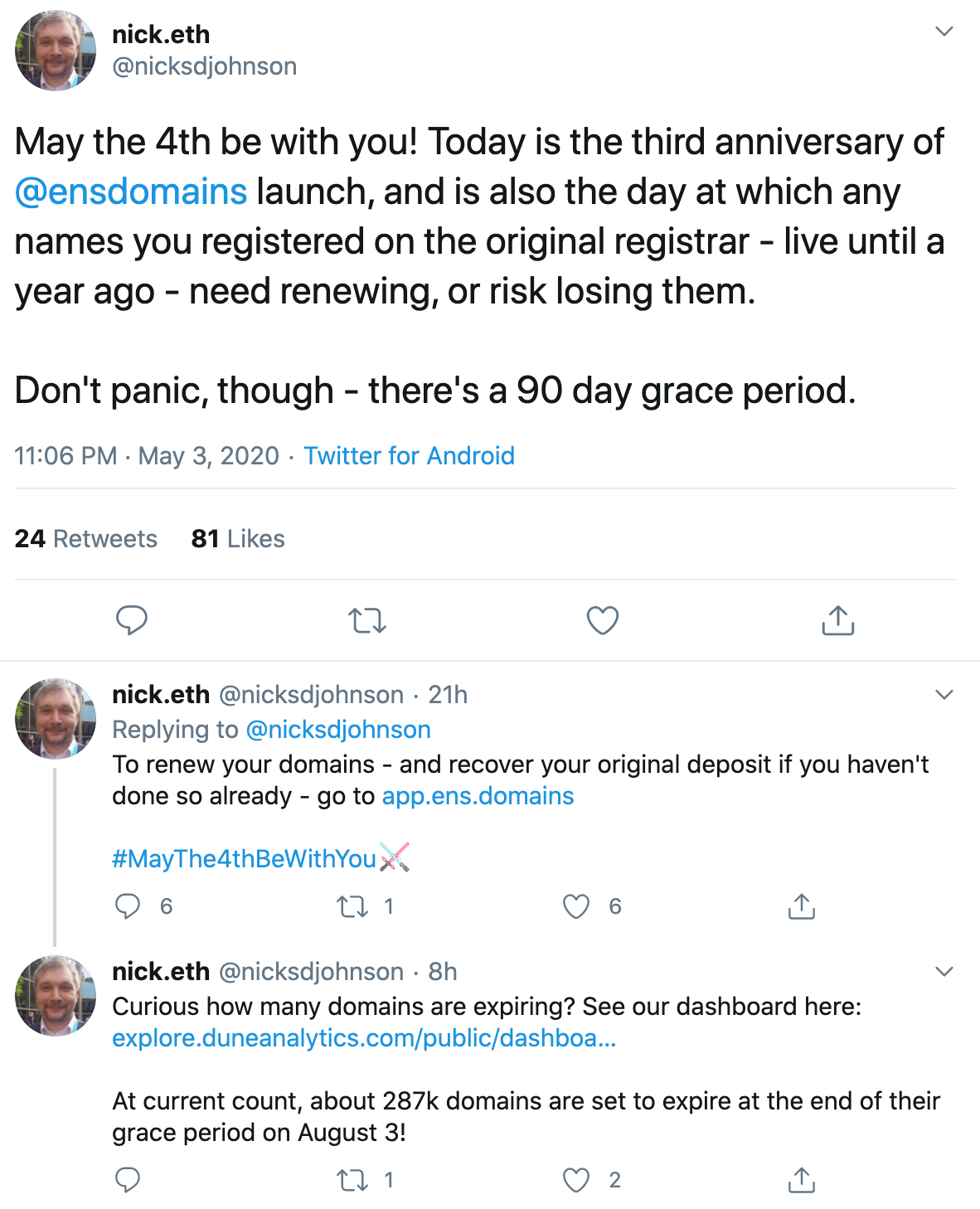 How far ENS has come
When ENS was first launched by Nick Johnson and crew in 2017, it only supported .ETH names, it only resolved Ethereum addresses, and it had auctions (your unrevealed bids, RIP) and a deposit-and-return fee model for those .ETH names. The plan was to see how things went and upgrade it two years later to a permanent system.
That upgrade happened a year ago, when ENS migrated to the Permanent Registrar. Auctions were replaced with instant registrations; all .ETH names were made ERC721-compliant NFTs (the ERC721 standard didn't exist when ENS first launched); and the deposit-and-return fee model was replaced with a spent annual fee one.
We've also greatly expanded what you can do with ENS: we've added multi-coin support; a Content record for IPFS hashes, Swarm hashes, and Tor .onion addresses; text records for personal information, including the ability for users to create their own record types; the integration of the DNS TLDs .XYZ, .KRED, .ART, .LUXE, and .CLUB (with full DNS namespace integration coming soon); and a tool to make it easy for users to upload to IPFS in the ENS Manager.
ENS has been integrated in over 130 wallets and dapps, including Opera, Brave, and others for surfing the decentralized web, and leading wallets like Coinbase Wallet; Almonit launched as a search engine of the decentralized ENS-based web; Vitalik led the way in the viral practice of people putting their .ETH names in their Twitter profiles; ENS joined the DNS Operations Analysis and Research Center; Rocket LP DAO issued the first ENS-backed loan; and we even got to present at EthVR0.
We've also spelled out our thinking regarding why we won't create additional new TLDs, why we've set ourselves up as a non-profit, and why we think it's best to use Ethereum and ETH rather than a bespoke blockchain and token for a blockchain-based naming system.
Action items!
If you registered a .ETH name early on with the auction model, there are two things you need to do, both with the ENS Manager:
1)
Get your original deposit back
While logged in to MetaMask or your Web3 browser with the Ethereum account that owns your .ETH names, search for your early .ETH names.
Then click the button "Return" near the top to get your deposit back from the old system. (Note: For names you registered after the switch to a spent annual fee model, there's no fee to return to you.)
2)
Renew your names
On the same page for your name in the ENS Manager, you'll need to renew your .ETH name to keep it.
Most names cost just $5 a year (with 3 and 4 character .ETH names costing more), and you can pay ahead. That means, you can add one year of registration to your name for $5, or add 10 years for $50.
If you don't renew your old .ETH names, they will be released in August for other people to register. So renew your names!
All names registered since last May with the new system will also need to be renewed over the next year (if you hadn't already paid ahead).
Read more on our Medium post: The Great Renewal: It's Time to Renew Your .ETH Names — Or Else Lose Them
Follow us